BLACK FRI-YAY 2019 and beyond. ALL THE DEETS!
Posted by ALEXIS SUTHERLAND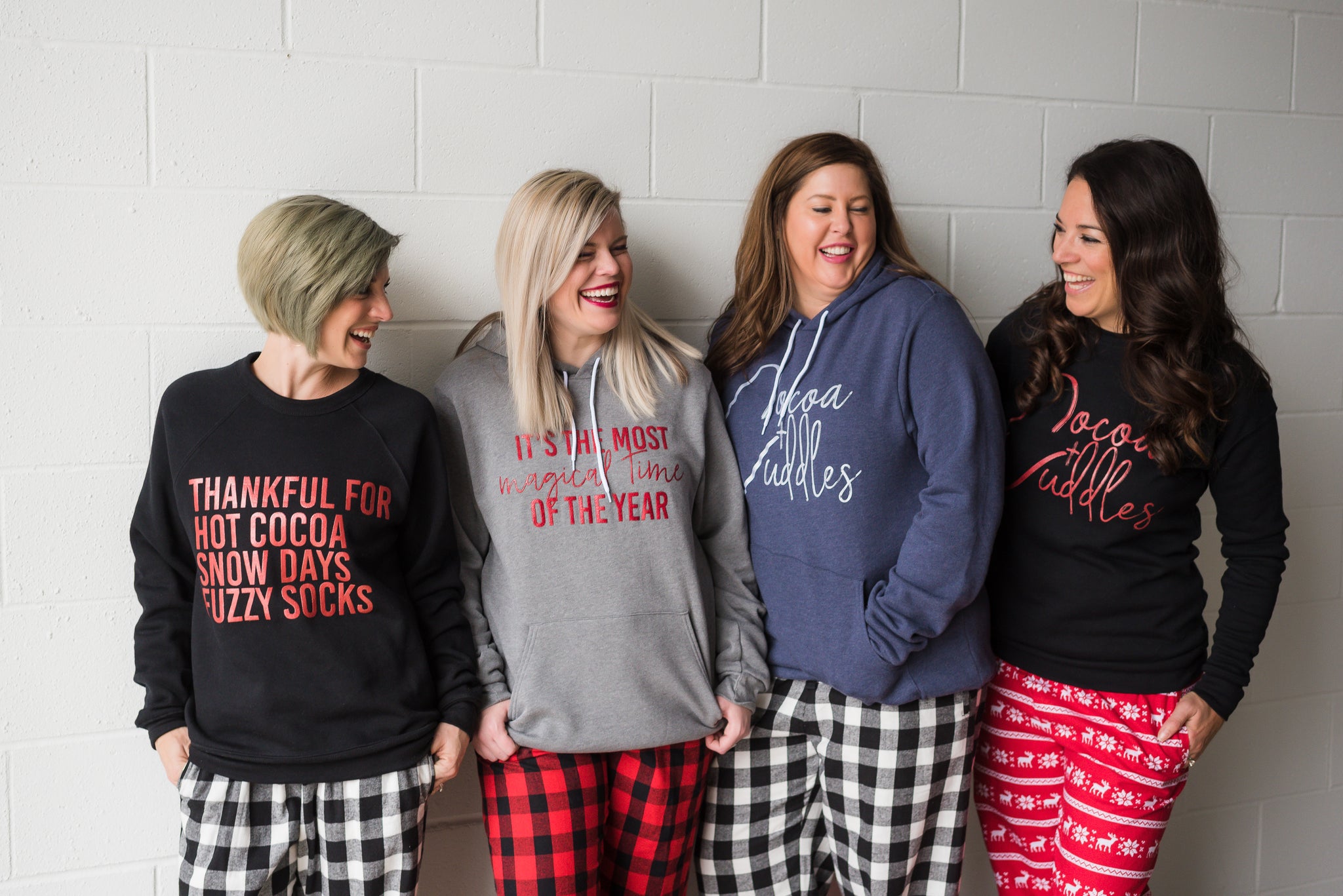 How is it already almost the craziest weekend of the year?! If you were with us last year, you know it was #epic and this year will be one that won't disappoint. Why? Ohhh, I can't dish all the secrets in the first paragraph...keep reading...
We like to be super extra around here and this isn't just an
ordinary
day so we put a
YAY
in there. We think (we KNOW) you'll be
yaying
periodically while reading about our super sweet
freebies that will be going down this weekend
, yes FREEBIES, and deals. Soo, here we go. 
When? Thursday, November 28 at 10:30 PM EST through Friday, November 29 at 11:59 PM EST.
Where? Our site. www.declanandcrew.com
What's Going Down?

 

50% off site-wide for the first hour

 

(until 11:30 PM EST) and then 40% off until Friday, November 29 at 11:59 PM EST. Discount code that will need to be applied at checkout is

 

BF19

. CODE MUST BE ENTERED. We will not apply the code after orders have been placed. 
But wait, there's more...
ALL orders placed during our big sale days gets an entry to win all sorts of prizes, like tees for a year and MORE.
Tune in with us on January 6 at Noon EST in our VIP Group on Facebook to see if YOU are on of the L U C K Y winners. ONE Mama wins DC tees for a YEAR plus some other amazing prizes.
 W
inners must claim within 24 hours of announcing via live video. Your entry number is your ORDER NUMBER.

We did tickets last year, however we want to make sure they aren't lost or thrown away, so your order number(s) are your entry numbers! You get one entry per order, so if you order 3 times, you have 3 chances to win.
OH SNAP. The site may be a little limited after our biggest sale of the year, but we got ya covered. BRAND NEW RELEASES...like 30+ of them. Goodness will launch at NOON EST on
Saturday, November 30.
All of these items will be 35% off with code SBS35.
All items from this launch are final sale, as they are limited edition releases. A sizing guide will be released next week! Keep an eye out!
But wait...there's more! The first 200 orders will snag a brand new black BPA-free plastic Proud Mama (blush print) travel tumbler. 
ARIANA Vintage Wash Long Sleeve Tee- Mama All Day Every Day
$32 plus 35% off
PENELOPE Long Sleeve Tee- Cocoa + Cuddles 
$32 plus 35% off
HOLLY Cowl Neck Pullover- MAMA Modern
$48 plus 35% off
MORE COMING!! Stay tuned! Will update them here!
We want as many Mamas to snag these incredible deals as possible, and although we have stocked up quite a bit for this crazy weekend of sales, we know many will miss out. TA-DA! Cyber Monday...a day FULL of preorders so if you missed out on the fun the past few days, you're in for a treat. We will be pulling in some of the most popular items from Small Business Saturday (as garment inventory allows) AND adding a couple newbies. We will also be dropping our DECEMBER Mystery Mama BUNDLE too!
Of course, all at mega-sweet deals. Tune in with us at 11:00 AM EST. 
PLUS, the first 100 orders get a FREE MAMA Modern Canvas SNACK BAG.
Due to the volume of orders from Black Fri-YAY and Small Business Saturday, Cyber Monday orders will ship on or before January 10. Please do not order with intentions of holiday gifts. 
Want/Need/GOTTA HAVE your Black Fri-YAY or Small Business Saturday order FAST?! This is a new option for Y O U. We are offering a listing for 100 orders (it will be gone once this has been reached) to skip the processing line and get their order shipped off in a flash. 
HOW DO YOU GET THIS?!

 
You will have to add this item to your cart, just like an actual product. It can be added prior to the sale, as it will be up Thursday morning. It will be $15 (discounts do not apply to this) and keep in mind, this is does not include the actual shipping charges, just the amount to skip the line and get those goodies quick! This cannot be used if a preorder is in your cart, as the preorder will not allow us to ship out the order in it's entirety.
Orders with this add-on purchased will be shipped by December 3, probably sooner. This item MUST BE WITH THE ORDER that is intended to be rushed. It applies to ONE order, not all placed during the sale. 
Can I combine multiple orders? Unfortunately, we are not able to combine orders. Each order will ship separately when all items are in-stock. 
What is the processing time for orders?
Orders placed on Black Friday and Small Business Saturday are
expected
to ship by December 20, which is the USPS stated timeframe for Christmas delivery. Orders placed on Cyber Monday will not ship until January 10, so please do not order these for holiday gifts, as they will not ship out in time. 
Can I exchange items?
Black Friday items are not final sale (unless stated) and can be exchanged via our exchange policy, however keep in mind that you will get a gift card back for what you paid after discounts and before shipping.
You will not receive another discount to repurchase
. We recommend selling on our Buy, Sell, Trade Group
here
.
Small Business Saturday and Cyber Monday items are final sale. No exceptions. 
How can I make sure I order the perfect size? 
We will be releasing a sizing guide for all our Small Business Saturday newbies. This will include a short video snippet for each garment, comparable items on the site, fabric content, a size chart, and our
personal
recommendations based on preferable fits. Due to the volume of emails we will receive, we will not be responding to emails regarding sizing/brand of garments. We suggest snagging your fave garment and laying it flat on the ground and then measuring it pit-to-pit and from shoulder-to-hem. These are the measurements that are used on most of our size charts and will help you find the perfect fit. #SCORE
Can I change or cancel my order once placed?
Once an order is placed, we cannot alter or change it for any reason.
No exceptions. 
Who can I contact if there is an issue with my order once arriving?
Feel free to reach out to Cher or Jess at support@declanandcrew.com with your order number and we will take care of you right away! 
Will things sell out?
Yes! In the past, it does get a little nutty! This is our biggest sale of the year, so Mamas love to snag some incredible deals and things do go rather quickly. We suggest to be ready at the times given for each sale day. It is inevitable that things will get pulled from carts and, occasionally, our site oversells. We take precautions to help this not occur, but during our very popular Mama Needs A Tee Deals, we have
over 1000 Mamas on the site at once checking out
, so we are preparing for a little bit of (fun) madness.
We appreciate your understanding with this! It's our biggest weekend yet! 
Is there a limit on how much can be

 

purchased?
Nope! Shop away, Mama! 
Can I pre-fill my cart prior to the

 

sale? 
Yes! You can on Black Fri-Yay, however there is a chance that things will sell out prior to checking out. Items are not taken out of stock until payment is fully processed, so it may (it will) get nutty,
Where will the sale happen? You're here! Right on our site at www.declanandcrew.com. Black Fri-Yay will be site-wide. Small Business Saturday will be featured in a specific collection and you'll be able to easily access it from our main page banner and a direct tab on the main navigation page. This will apply to Cyber Monday as well. 
Can I use Sezzle? Yes! All methods of payment accepted currently will be accepted during the sales. Keep in mind that if an oversell occurs, it usually affects orders placed with Sezzle as it takes longer to process these orders.
Can I shop on the app? Yes! You can, however we recommend using a computer and accessing our site. Totally up to you! 
WOO HOOO! We are excited and hope you are too! Stay tuned for more updates as they come! 
Reviews (1 comment) Collection 2019 Sale 70% Off Title for image