Declan's Room Tour- To Infinity + Beyond
Posted by AMBER MARKER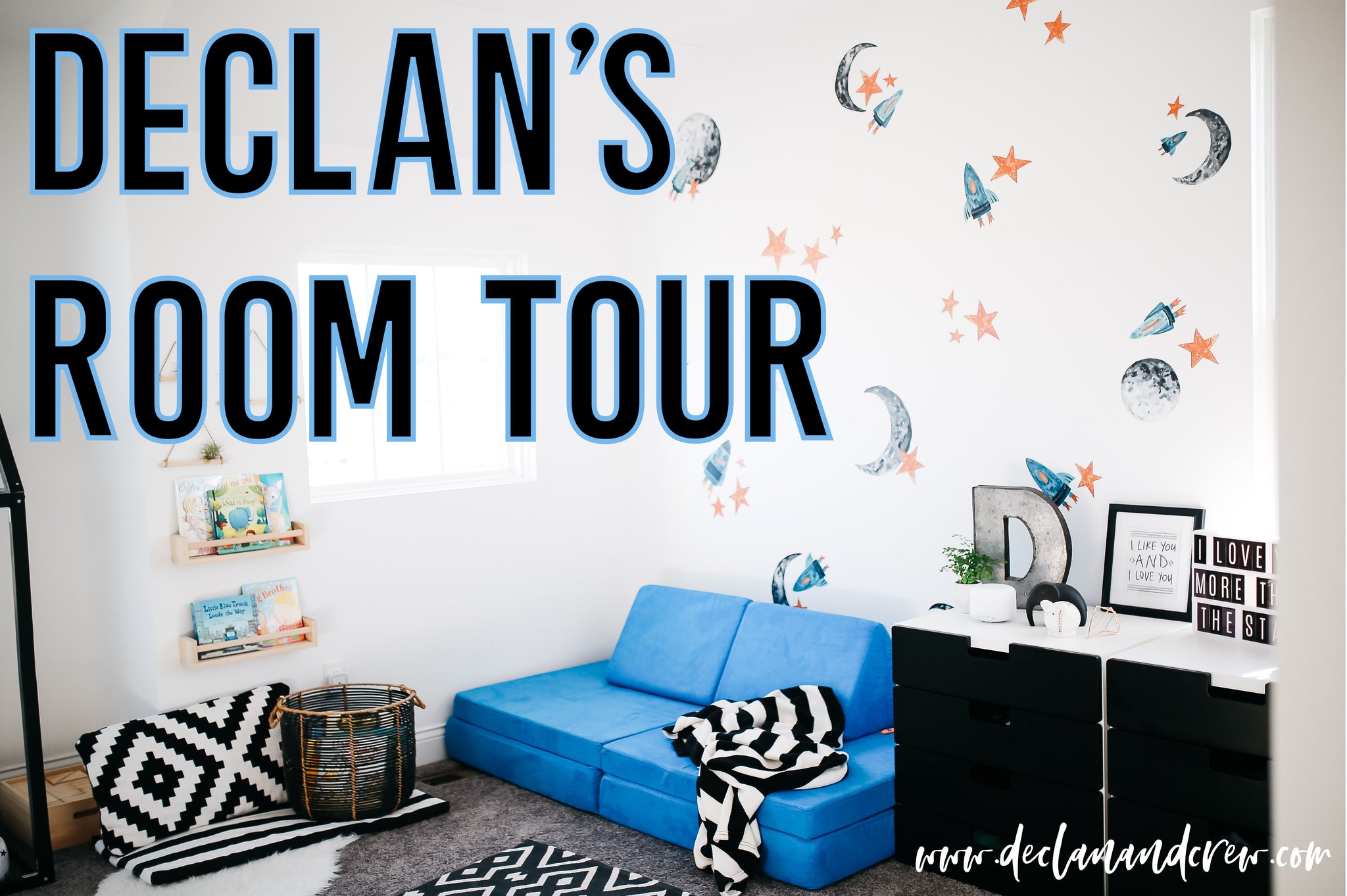 Declan's room is one of my favorite spaces in our house. It's simple, yet has some fun pops of color and texture to it. You guys already know that I am super basic and love me some black and white (hello, timeless), but I wanted a little more color in his room. 
Rug: Urban Outfitters
Book Stand (on left): Target
I totally swoon over Land of Nod, but not-so-swooning over their prices. I just couldn't do it. Declan's room is a curated mix of brands that I was able to snag at pretty sweet prices which is a total #momscore in my book. 
This bed. It's what I always get questions about and one of my absolute fave parts of his room. When we were transitioning Declan into a toddler bed from his crib, I kind of panicked because he is such a WILD sleeper... like a roller and flipper when he sleeps. I knew I wanted something low to the ground so that if he rolled off it wasn't a huge deal. I can't tell you how many times we go in his room in the morning and he is off the bed and on the floor, so for us, this is a perfect bed to make sure he is safe. Where did we get it? Weeeellll, I convinced my husband to build it. It was not fun to build and a total pain in the rear, BUT so worth it. There are some awesome plans and DIY blog posts on Pinterest, just search DIY HOUSE FRAME BED. We tweaked it a bit so we got our dimensions right. WORD OF ADVICE: Build it IN THE ROOM it will go in. It won't fit through the door. We maybe learned the hard way... We stained it black, however I also love the look of the natural wood color. 
Sheets: Pottery Barn Kids
Pillowcase: Spill The Beans Etc. 
The former elementary teacher in me knew I needed a couple cozy nooks for reading. The boys' rooms have no toys, except some wooden blocks and the stuff that Declan will sneak in to accompany his block building. Yes, he is a tiny toy hoarder and I will find things stuffed in between his wall and mattress. I want his room to be a space where he does things that require more imagination and exploration...plus, it does keep his room cleaner for the most part. 
This little nook gives me all the feels. I had debated on staining the natural wood on the plant hangings and shelves, but decided to leave them and I am so glad I did. 
Black Basket: Target
Airplant Wall Shelves: DIY project
I am slightly obsessed with wall decals. They can completely make a room. The best part?! Easy to apply and can be removed without any damaged. Declan chose these while scrolling on
Urban Walls
 and I was so excited because they are even more stunning in person. 
And that
Nugget
. You're like Nugget HUH?! If you follow along with my Instagram stories, you've heard me rant and rave about them. That blue lounge space that Declan is reading on is actually 4 pieces that can be easily moved around to build unlimited configurations. It's the perfect space to read, but also to build a fort, jump on, sleep on, play cars on...the list goes on. This color is Neptune and obviously was a match-made in Heaven for his room. 
Next up are these dressers that I am IN LOVE WITH. They are so perfect for little ones and sit low to the ground. They are from Ikea (Stuva Collection) and you can find them
here
. I think it is easier to physically go there and check them out in person because you actually get to choose your drawer fronts and the site makes it look confusing...or maybe just for me. Hahah...
Lightbox: JoAnn's
Laundry Bag: Etsy
D: Hobby Lobby
Wooden Peace Sign: Small Shop
So there you have it...the grand tour. We've gradually pieced his room together while never sacrificing style for budget. Ikea and Target are both amazing places to get super chic, on-trend styles for less. What is your fave part of this room?! I'd love to hear!
Reviews (2 comments) Collection 2019 Sale 70% Off Title for image