DIY Easy (And Healthy) Popsicles
Posted by AMBER MARKER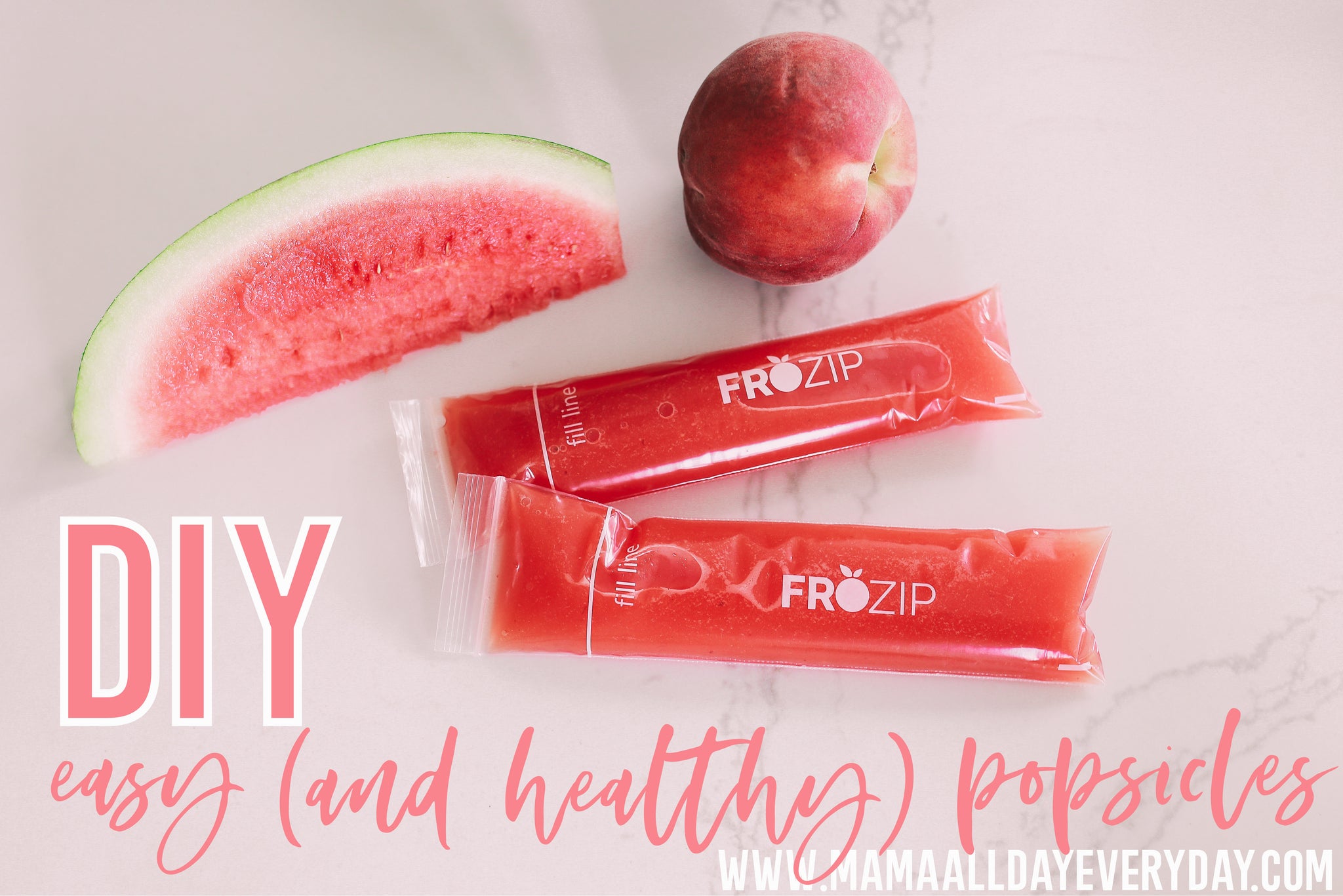 Summer has officially hit and it is H-O-T. I was wandering down the frozen food aisle (AKA the ice cream aisle because it's the best one) and I hear Declan ask for popsicles. Not gonna lie, I wanted them as much, if not more than him... and then I started investigating the ingredients and nutrition facts. I know, spoils allllll the fun, but what I read gave me a whole new perspective on those cold treats I thought were primarily just ice. (Un)shockingly, many of them had the first ingredient listed as SUGAR and absolutely no nutritional value. Yep. That is when this mama decides to DIY. So I did and it was mega easy and the boys LOVE them... I call that #winning.
What You'll Need:
-FroZip Popsicle Resealable Bags with Funnel: 
Snag them
here
.
-Hint Infused Water Drinks (optional): I got mine at my local grocery store and they were on sale for $1 each. You could totally use purified water as well or juice, but I love that these are 0 calories and sugar free, but contain NO artificial junk... literally just infused fruit water.
-Fresh Fruit: I used watermelon and peaches for this specific recipe.
-Blender
Let's Do This...
I started off by cutting the watermelon and peaches into chunks so they were easy to blend up. Honestly, I did not measure anything and that's the beauty of this! YOU customize your popsicles. I used about 2 medium slices of watermelon and 1 peach.
Next, I dumped a watermelon flavored Hint into my blender. I always put the liquids in first. I LOVE these because they add some flavor, hydration, and contain no added sugar. You could definitely just use water if you wanted! I just wanted that extra pop of flavor.
I put the fruit into the blender and blended until a smooth consistency.
Before filling the little baggies, I labeled them with the contents of the popsicle, such as "Watermelon Peach" with a permanent marker.
Carefully, use the funnel (it comes with the FroZip bags that I linked up there) to dump the mixture into the baggy up to the fill line. Zip her upand put in the freezer to harden up.
Each baggy has a zip seal that can be opened and zipped shut, however I found it easier to just cut the top off so it came out easier. I do recommend letting them sit out for a few minutes before enjoying because they can be harder for little hands to squeeze them out when they are rock solid.
I ALSO made a peanut butter and banana blend that has a punch of protein and is a great snack! I simply blended up one banana, 1 1/2 cups of Organic Unsweetened Vanilla Almondmilk (add more if too thick when blending), and a large heaping scoop of peanut butter. Add some Cacao powder for a
chocolate kick 
or some strawberries to make it like a Banana Split Sundae. We use the Cacao Powder found
here
. Do NOT overdo it. It can be a little
bitter 
so the teensiest amount will do.
Kids won't eat their veggies? Umm, HELLO...throw some in there. Spinach is a great one to pop in there with some fruit and they will never know that "popsicle" is actually giving them a daily dose of greens.
Other things to throw into your popsicles...
-Yogurt
-Soda/Pop and Ice Cream (think Root Beer Float)...and yes, I said POP which is pure sugar, but it doesn't have to be. We LOVE
Zevia's 
version of Root Beer, but WITHOUT all the sugar and naturally sweetened with Stevia.
-Coconut Water
-Juice
-Coconut Milk
-Chia Seeds
-Almond Butter
-Sunbutter (nut-free option)
The best part? You can make up endless (even healthy) concoctions (which is kinda fun), it's easy, AND your kids will approve while staying cool and beating the heat. I will no longer feel guilty letting them drill some popsicles outside;)
I'd LOVE to hear what recipes you guys come up with in the comments!
- Collection 2019 Sale 70% Off Title for image