DOCKATOT
Posted by AMBER MARKER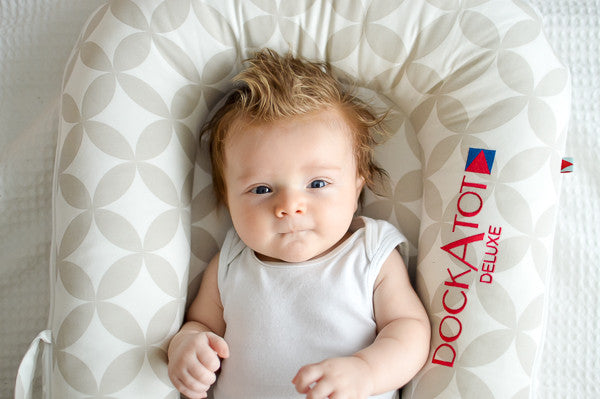 Sleep. They say it's for the weak, but I beg to differ. One of my all-time favorite leisure activities has been ransacked by tiny humans who run off of cuddles and fruit snacks. I am one of those individuals who needs like 12 hours of sleep a night to fully-function, and let's be honest, when you enter into motherhood, you can divide that by about 4. 
My first, Declan, was the BEST sleeper. From the get-go, he woke every two hours to feed and then one night at 8 weeks, slept through the night and has been a pretty phenomenal sleeper since. What can I say? I got spoiled and my silly self assumed the second would be a breeze. I had this whole mommin' thing down..or so I thought.
And then there was Crew.. I have literally tried everything to get that sweet babe to sleep for longer than 15 minutes during a nap or 2 hours at nighttime. You name it and this very desperate mama has tried it; swaddles, sound machines, essential oils, sleeping at an incline. The only thing that would work his first 10 weeks of life, was if he was sleeping on me, which was not something I chose to do through the night.
And then I discovered the Dockatot. I know mamas that just rave about this product and I had to figure out what was so special about it...So I ordered it at 3 am while feeding my sweet babe, eyes struggling to stay open from pure exhaustion. Was it going to work for me? No idea. But it was worth a shot.
I must say, I was impressed with this company before even opening my package. The overall presentation was just stunning and grand. This beautiful black box arrived at my doorstep and it was almost too pretty to tear apart and open, but out of full-fledge desperation I opened that package like a 6-year-old on Christmas morning.
All I am going to say is that baby I mentioned above that was only sleeping 1-2 hour stints at night, slept the whole night for the first time. I had a couple of those moments where I woke up in full-blown panic, checking to see if he was breathing. Call it magic, but this thing has not failed us yet. Speaking of which, he is beside me napping in it right now.
So you are probably asking what makes it so special? The Dockatot is designed to reinvent the womb making your baby feel secure, safe, and allowing them an environment that is not going to over-stimulate them. It's unique "cuddle" shape helps your baby to not wake up when natural startle reflexes occur. And if you have a baby already, you know that as soon as that happens, you'll experience a wide-eyed baby, possibly angry, shortly after because they woke themselves up. 
I adore that this is not only for sleepy time and is so multi-functional. We have been practicing our tummy time skills in it as well and it is proving to be a place where Crew just likes to hang out during the day. It has handles and is super lightweight, so it is a breeze to just pick up and tote around during the day. 
Head
here
to read all about the Dockatot and how it works. It comes in two sizes and tons of different chic cover prints to suit your fancy. 
Basically, I can't get over the instant progress I've witnessed with this product and it has quickly made it's way to one of my favorite baby products currently on the market. I love it so much, that Declan may have one on the way for him.
I wonder if I could fit in it?
Haha.. Anyways, feel free to use this
code
for 10% off! SCORE!
Wishing you many slumberous nights!
Amber Collection 2019 Sale 70% Off Title for image