Family Photoshoot Style Guide
Posted by AMBER MARKER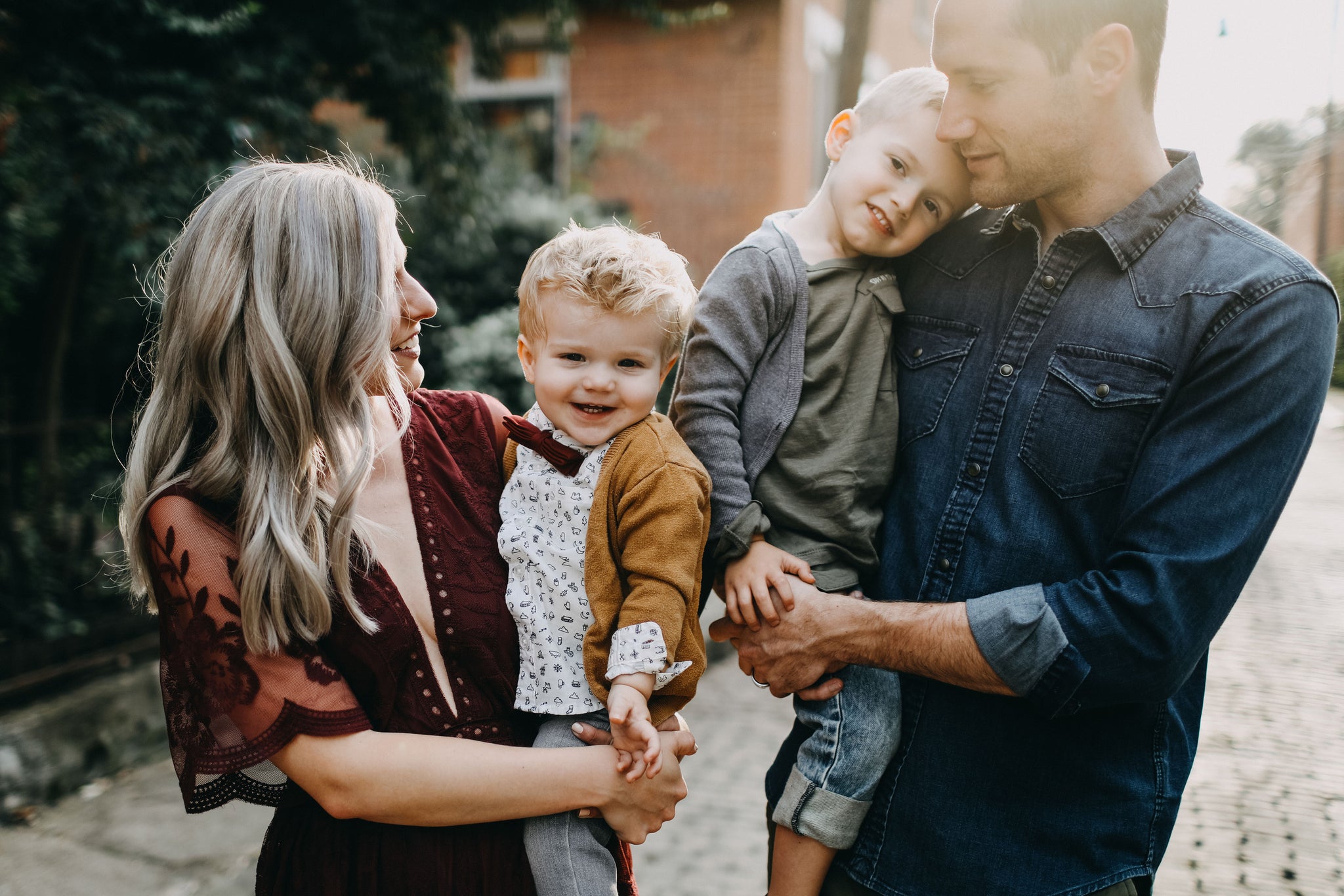 Ahhhh, family photos. I don't know about you but it's like a bittersweet experience for me. I LOVE family photos because, HELLO, I am a mom and usually the one behind the camera. Pictures with me in them? Oh, you mean my awkward selfies with my kids? BOOM. Reason number 523 why I kinda go in full-blown "they gotta be perfect" mode. It's the ONE time where I am IN the picture and hopefully my hair is styled in a way aside from my usual mom bun with postpartum fly-aways.
The bitter side of things... trying to plan it. I see you. Rummaging Pinterest and your closet. Panicking over what in the WORLD to wear...not just for yourself, but the entire family. It can be super overwhelming, and although I am no pro at this, I have learned some tricks along the way that make the process much easier, while creating a cohesive "look" while streamlining all the anxiety along the way.
So you've booked your session with your photographer. YAY! Next step, figure out the attire. I've started asking myself some questions once we have scheduled them just to get a feel of what I WANT from the session.
Ask yourself...
WHERE are you having the shoot? Indoors? Outdoors? At a park? Downtown in an urban setting? What will the colors be like in the background of the photos?
The pictures I posted up there were taken in a historic part of downtown Columbus, so I knew there would be some really cool urban spots with brick, but some greenery sprinkled in.
How do you want the pictures to feel? Classic. Boho. Earthy. Formal. Relaxed. Whimsical. Rustic. Playful. Bright. Cheerful. Beachy.
Our session was taken around fall, so I wanted it to feel very earthy AND jive right along with holiday cards but not be super, "Hey, we are wearing Christmas colors for our Christmas cards." I want to hang them up in the house, so trying to choose a more neutral palette that is timeless and only requires one picture session.  I'd say our outfits were a little more formal, but not like we were about to attend a black tie event or anything like that.
Winter. Spring. Summer. Fall. I always like to make my photos match the season, especially if outside because you want to make sure you and your crew aren't freezing or sweating like you just ran a marathon. Obviously, if there is snow on the ground for your session, wearing a tank top may be a little out of place and vice versa... a wool sweater and it's mid-summer. This can also help you choose colors for your outfits! I always like to mesh the seasons in with our overall color scheme, which I will get to in just a bit.
Our pictures were in the fall, so we did layers that could easily be removed if needed... because Ohio tends to not always follow the rules of how seasons should work. It was actually SO hot that day and we WERE sweating up a storm...or maybe that was me in full-blown panic because my kids were hoarding little rocks from the alleyway the whole time. Hahaha... #momlife
It might sound conceited...buuut I plan everyone's outfit around...drumroll...MINE. Yep, M-E. ME. You want to be confident in these pictures, so choose an outfit that YOU feel good in. One that makes you take a second or third glance at yourself in the mirror and say, "Move on over, Beyonce. Mama is in the house." You never want to plan everyone else's outfits and then settle for something to wear because it's the only thing that will mesh well or match with the others. PLUS, I really feel like it makes the process SO much easier when you have a starting point. Let me walk you through my process with choosing colors and the actual outfits...
I saw that dress. I knew it was the one. The color? Perfect. It was the perfect color for "trying to kinda make these look festive for Christmas cards" without wearing matching ugly Christmas sweaters. So there we had it. My outfit was done. The rest would be planned around mine. **Not jabbing Christmas card sessions...this Mama is just too cheap (#ballinonabudget) and I need an "all-in-one" session. Hahaha...
Let's talk denim. I LOVE denim SO much and I try to somehow tie it in with most sessions we do. First off, I consider it to kinda be a neutral and it adds some "texture" to the overall look. Tip: S p r i n k l e it in. Don't overdo it. I knew I wanted one of the boys to wear denim jeans, so I didn't want to have Jordan wear them too, so a denim button up from Old Navy (like this or this) was exactly what I was looking for. Because it was denim, I felt like it could easily pair with any color of pants, but I was going for earthy and rich colors, so we found a pair of olive pants from Old Navy like these. They were having an awesome 40% off sale at that time so we snagged some DEALS.
BOOM SHAKA LAKA...two outfits planned. Two more to go...
The boys. I tried really hard to find things in their closets. I found those cute cardigans in their closets from Beau Hudson (our fave cardigans ever). Grey is a neutral so that worked and then mustard was very earthy, so why not?! Do NOT be afraid to do more than two colors and mix-it-up a little. Been there, done that. We did family photos once and we all (like 18 of us) wore white shirts with denim pants. It was so boring and kinda reminded me of The Adams Family...not in a good way.
Back to the boys... we added grey to the mix with Declan's cardigan, so when I spotted those grey distressed skinnies for Crew from Old Navy, I knew they were the ones. PLUS, I already had the denim jeans for Declan so I didn't want them to match. Tip: Roll pant and sleeve cuffs for some extra oomph. Not everyone, but randomly, so again, you aren't all matching.
Last parts of the outfits were the boys' shirts and shoes. Old Navy is, honestly, my go-to for simple/basic outfits and if you go during a good sale, SCORE. Again, I scoured their closets for something I could recycle and Declan's olive shirt was a winner. Again, basic, but totally spiced up with the cardigan to add some texture. You cannot go wrong with layers. Zara has some of our fave kiddo basics...and many at a great price, like these.
Sooo, not a whole lot of patterns going on with the outfit selections I had already chosen, so when I saw this shirt with little woodland graphics (cute and not super intrusive, but added a little something-something.) I snatched it up...bow tie was included and the navy in it tied in with the denim pieces and the bow tie paired SO WELL with my dress. It was like full-circle. Again, Old Navy. And his little mustard loafers, too.
I remember our photographer commented on the outfits and my heart let out a sigh of relief because you just NEVER know how they will look not just together, but on and together.
-Start with your outfit and mesh the others around that. Put yourself first for once, Mama;) Be confident and LOVE what you wear. YOU deserve that.
-Don't get too matchy-matchy. Add in various textures, colors that mesh well with one another, and don't be afraid to pop in a splash of pattern.
-Basic isn't a bad thing. Spice up basic pieces with layers (cardigans, layered button-up, sweater, scarf). Old Navy actually has some amazing examples on their site right now of how layering adds some dynamic touches.
-Avoid super bold patterns. You want to look at the picture and notice your expressions, the vibe, not that super bold Hawaiian floral tee and neon pants Uncle Fred is rocking.
-Some of my fave places to shop for basics... Old Navy (clearly), H&M, Zara, and Target.
-If all else fails with your kids... bring along a small (non-messy) treat to bribe them. We did fruit snacks and they worked for those bad boys.
-Make sure whatever outfits you choose, they are YOU. Going to be honest here, I don't think I'd ever do some super formal shoot with a frilly dress and a suit. It's not us. The last thing you want is to feel uncomfortable during the photos, so make sure your personalities and vibes are also a part of your decision-making when planning.
-Fave places to get dresses for myself, Lulus. Best part? Don't love it? They provide return shipping to send it back. LOVE Lulus so much.
-Lay the outfits out on the floor and see how they mesh.
Annnnd one more example for you from our Spring family photos so you can see the other side of the spectrum when it comes to seasons. We even recycled some things from our last shoot, like Declan's shoes and jeans, and my shoes. Declan's shirt? Exact same basic top as our last family photo session, just another color.
So there you have it. My little "Handbook To Not Feeling Like You Are Going To Lose Your Mind" when trying to plan family photo outfits. Have some tips?! Share them with me!!
Reviews (5 comments) Collection 2019 Sale 70% Off Title for image