Harlow's Nursery Tour |Vintage Boho Glam|
Posted by AMBER MARKER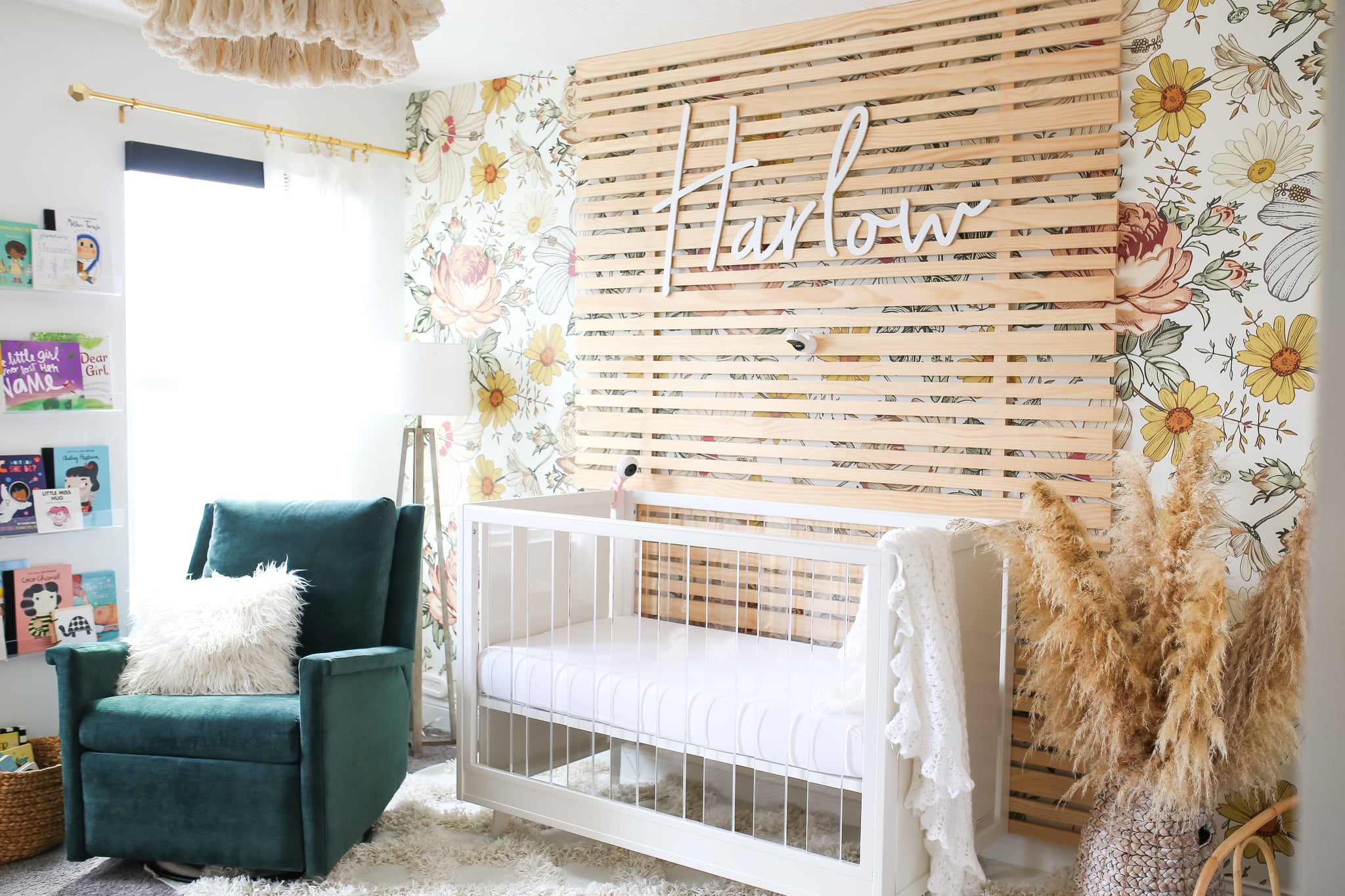 The acrylic crib was another piece of the nursery I saw and instantly fell in love. I loved that you could also see the wood slatted wall through it and just had an airy feel and added a touch of "glam". I took the acrylic theme of the crib and incorporated it into other parts of the nursery too!
OBSESSED with our Lollipop Baby Monitor/Camera! We had another previously and it just wasn't anything great. That one and this one were the same price point and the Lollipop has a TON more features, such as a built in sound machine, cry detection, as well as smart detection so you get alerted if your babe goes outside of certain areas of the crib. I'll make sure to do another blog post with all the deets. 
I wanted to tie in the acrylic in other elements of the room, so decided to do acrylic bookshelves and so glad I did! These are one of the most frequently asked about decor pieces in Harlow's nursery. 
There was this awkward bare area on the wall to the right of the dresser, so I decided to continue the floral over there too for an extra pop. It is exactly what that blank space needed and those are actually decals rather than the wallpaper that is on the main statement wall. I created an area for Harlow to lounge and play and I love the simplistic wooden play gym. It's so easy to pick up and take to another area of the house too! 
I sprinkled my Grandma into parts of the nursery so that within every view is a little memory of her. She had that exact type of plant in her house as soon as you walked in her front door. Her front door was where she always greeted you with a huge hug and kiss on each cheek, so when I saw that particular plant at the store, I knew it had to go somewhere in Harlow's room. 
Harlow's dresser was actually one that we used for both boys. It was super banged up and needed some new paint to spruce it back up. We debated keeping it white, but decided to do a custom color match to a color in one of the flowers in the wallpaper. We were able to take a piece of the wallpaper to Sherwin Williams and they did such an awesome job getting us a peachy color that really pops in the room. I ordered some new knobs and it instantly gave it a new look that fit the vibe of the room perfectly. 
Don't be afraid to get creative with things that are actually meant for other uses! I found this gold wire tiered basket in the kitchen area and it's meant for fruit and veggies...but instantly knew it would be perfect for on top of Harlow's dresser. It's a perfect space to hold teethers and small toys, as well as burp cloths. It could also work for swaddles, bibs, diapers, and more! 
I decided to use a kitchen storage glass canister to hold Harlow's pacifiers and love that they are out but "protected from the elements" while being super easy to grab when needed. The glass soap dispenser has hand sanitizer in it for before/after diaper changes to quickly "clean up" and I love that it is so much more chic than a container of hand sanitizer sitting on the dresser. 
This vase is actually one that we used at our wedding. It was just a glass vase and I painted it white and then used a small sanding block to distress it. I absolutely love that we could incorporate something from our wedding day into her nursery!
Dried Bunny Tail adds a touch of texture and whimsy to the dresser space that fits right along with the color hues in the room. 
With the boys, I had all the "essentials" such as diapers, wipes, creams, etc. on the actual dresser. I decided to use this rattan tiered stand instead so that it cleared up some space on the dresser and it did not disappoint. I love being able to put all the baby essentials in one location and each tier has different things, such as diaper supplies in the top and bath time items in another. Makes an easy and adorable way to organize things without cluttering up space on the dresser. 
Another area where my Grandma is sprinkled into the nursery... the artwork on the walls include pressed eucalyptus and greenery from her funeral floral arrangement. These were so easy to create and add such a special remembrance to the space.
Harlow has quite the headband collection so I decided to create a space to showcase them, while also displaying exactly what we have so choosing the perfect headband would be a cinch. This was the easiest Ikea hack EVER. Simply get a wooden dowel rod from your local hardware store like Lowe's or Home Depot and VOILA! I just had Jordan cut it down and then it is set on top of the bottom portion of the brackets. 
The blanket on the side of Harlow's crib is one that I used when I was a baby. Love that I could mix in a bit of "true vintage" to her room.
So there it is! Harlow's long-awaited nursery tour and I am so in love with how it all came together. Let me know if I missed something or you have any questions! 
Reviews (5 comments) Collection 2019 Sale 70% Off Title for image