Hot Cocoa Redefined: A Delicious and Nutritious Recipe for the Whole Family
Posted by AMBER MARKER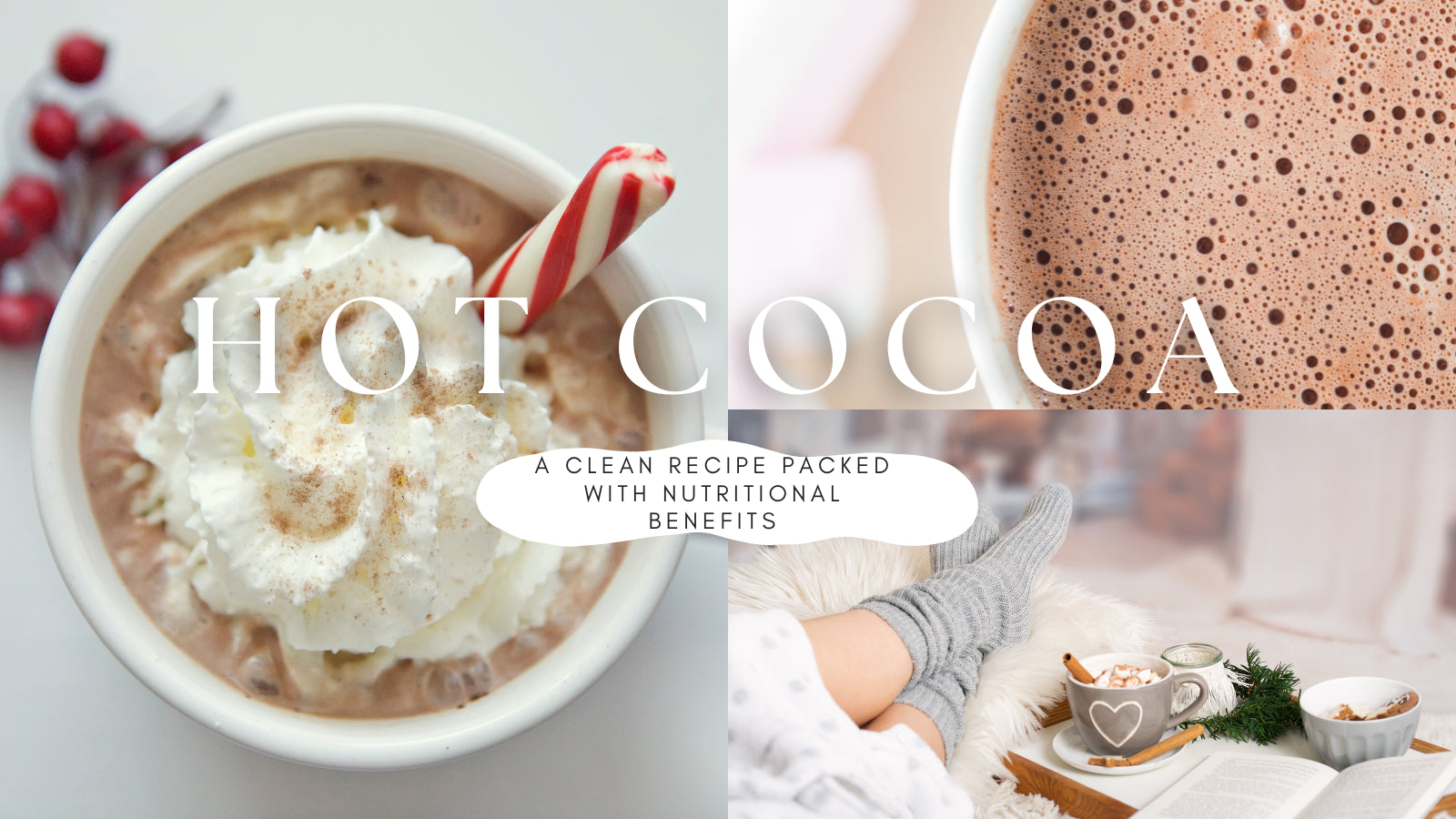 Tis' the season for all the warm and cozy vibes. Snowy days (like today in Ohio) are the best days to play in the fluffy snow until your toes and nose about fall off and then head in, get dry, and sip on some hot cocoa.
Are you looking for a delicious hot cocoa recipe that's not only yummy, but also good for you and your little ones? Look no further! I have a recipe that uses Ancient Nutrition Bone Broth Powder in Chocolate *click here to shop now*, mushroom extract powder (made from 7 species of mushrooms and packs a PUNCH of benefits), and water or your milk of choice for a rich and satisfying drink that will keep you and your kiddos warm and cozy all winter long.
One of the best things about this recipe is that it uses WAY less sugar, so you can enjoy your hot cocoa without feeling guilty. Did you know that one envelope of hot cocoa has about 12 grams of sugar (almost 3 tsps). That is not factoring in all the yummy toppings, like whip cream, marshmallows, etc. Back to this yummy alternative that doesn't sacrifice blowing up your tastebuds in the best of ways...
It's made with clean ingredients, so you can feel good about what you're putting in your bodies. The mushroom extract powder *linked here* is an adaptogenic, nootropic and immune booster, adding not just delicious chocolatey taste, but also packed with all the good stuff! Adaptogens are a class of herbs that help the body adapt to stress, while nootropics are substances that improve cognitive function, and immune boosters are ingredients that help to boost the immune system.
How To Make It *makes two 8 ounce servings*
1 scoop of Ancient Nutrition Bone Broth Powder Chocolate (20 grams of protein per scoop and no sugar being sweetened with stevia leaf) *linked here*
1/2 tsp of mushroom extract powder *linked here*
16 ounces of hot water or milk of choice *linked my oat milk recipe here*
Use a handheld whisk *linked here* to blend everything together until smooth. This is the BEST! We use it for everything from hot cocoa, to coffee, to protein shakes.
Your kids will never know there are mushrooms in it and you'll love the added benefits!
For a finishing touch, top your hot cocoa with whip cream (we love to use a coconut or oat milk option), marshmallows, and Simple Truth Sprinkles found at Kroger, but linking another option here. These sprinkles are a great way to add a little sweetness and fun to your hot cocoa without any artificial food dyes.
I know how hard it is to find recipes that are easy, delicious, and good for our families. That's why I love this hot cocoa recipe and I'm sure you will too! So, next time you're craving a warm and comforting drink, give this hot cocoa recipe a try. It's the perfect way to stay cozy and satisfied all winter long. 
Happy sipping!
Amber Collection 2019 Sale 70% Off Title for image