Kid Drawer Outfit Bundles
Posted by AMBER MARKER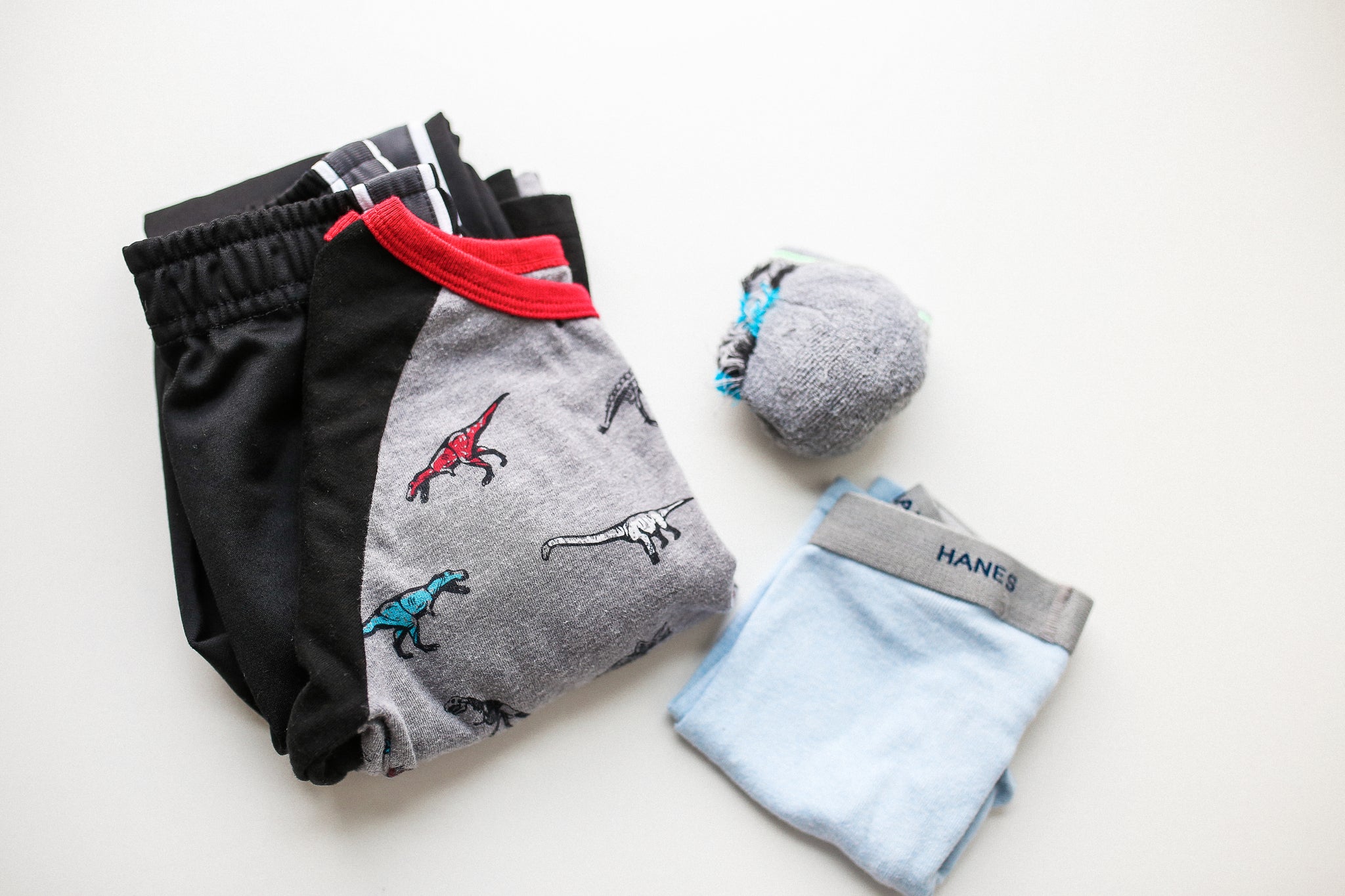 Ahhhh, nothing like waking up at the crack of dawn only to battle your little on what they are going to wear that day. If you don't experience this... #LUCKY. Declan and Crew started becoming super particular about what they wear and when they wear when they both turned around 2 1/2ish. I've quickly learned that it's always best to pick battles wisely, so I started using a system with every batch of laundry that has completely solved the issue of "I don't want to wear that!" that we were having happen pretty much every day. 
Kids love when they are given opportunities to CHOOSE and make independent decisions, so this system does just that for my boys. For starters, I used to have my own agenda of what "I wanted them to wear". This worked for the first two years of their life, but once they reached a certain age, they started to develop a sense of what THEY wanted to wear. I am not going to lie, at first, it got me really frazzled and I was not about to wrestle my child to put that pair of jeans on them. #aintnobodygotthepatienceforthat because about 3 seconds later, you know they will wrestle them right back off. 
I decided to go to Wal-Mart. #Garanimals to the rescue! Why? I was exhausted starting my day off arguing about what were "fast clothes" (Declan has this fetish with clothes being fast. I am guessing he means comfy clothes that he can run fast IN, but he tells me over and over that stripes make him go faster...maybe they do. Who knows, but I am guessing he feels the same way about pants with stripes as I do about my sacred leggings. I get it...LOL) So there we were in Wal-Mart... glaring at a section of mix-and-match pants and tops. I let the boys choose ones they liked best and we left with about 7-10 outfits each. Their faces were lit up with giant smiles as we checked out and both saying things like, "That one is mine! I picked that!" to the check-out worker. The best part? I spent $3.44-5.99 on each piece, making each outfit less than $10.
Although I was offering them choices, kids also like structure, so the next piece of this system is where I can in to provide that. Every time I do their loads of laundry, I organize bundles with their outfits. Each bundle contains the top and bottom, underwear, and socks if needed. I fold the smaller pieces (underwear and socks) into the bundle so they don't get shuffled around and lost in the drawer.
Here comes another opportunity for your little one to make a choice... every morning, THEY choose their outfit based on the availability in their drawers. Our rule is that they must use them all until the next load is washed, so all get equal love and wear. Not only has this caused us to stop the arguing in the morning over outfit selections, it has created total independency for Declan. He gets dressed on his own before he even comes down for breakfast. Crew will choose his bundle and then I get him dressed, but it allows for that "choice" which they thrive on. 
Above is how we arrange the drawers so each outfit is clearly visible for the boys. There is a mix of "fast clothes", as Declan calls them, as well as more casual/dressy items. I LOVE this drawer system from IKEA. Perfect for kids and you can find it here. It looks like they changed the design a little, but same concept in some fun colors! 
We do this same concept for jammies and swimwear also and it works so well! 
Drawer bins are a great way to sort socks, undies, anything smaller that they can easily access. I got these bins from IKEAS as well. You can find them here. 
Have a great organization hack for you kiddo's clothing?! Tell us!
Reviews (1 comment) Collection 2019 Sale 70% Off Title for image