BARE SOLES MOCCS
Posted by AMBER MARKER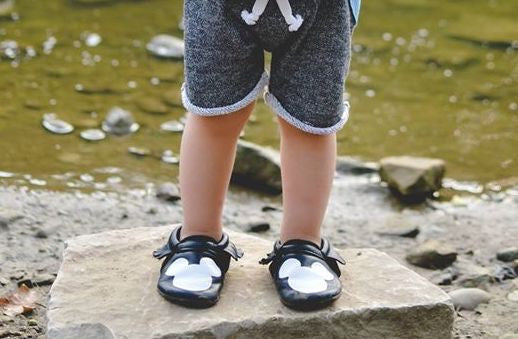 One thing I absolutely adore about this small shop world is discovering all the amazing makers out there. One of our favorite brands is
Bare Soles Moccs
...and for endless reasons. It all started with a pair of custom Mickey moccs for Declan's second birthday and the
rest was history. 
I quickly learned that these were not just
shoes
to my new little two-nager, but something that would follow him on all of his adventures that year. 
These moccs led Declan every bit of the way to his very first day of preschool.
And that first picture day. The day where you drop them off looking dapper but have no idea if it will last them to the point when their teacher stands behind the photographer trying with all her power to get that stubborn toddler to smile. 
Pumpkin patches..
Those moccs would experience that first (scary) encounter with Santa. 
And even that first "your diaper fell off and is hanging onto your ankle" moment. 
I can't begin to explain all the adventures we had in them. I often flip those moccs over and just look at those little toe imprints, symbolizing all the fun he experienced as a curious two-year-old. But naturally, all good things typically come to an end. The moccs withstood all of our crazy adventures, but those feet were proving to me that my baby boy was growing. I reached out to Brittney, the shop boss behind Bare Soles Moccs, and explained that I didn't really know how to replace them without Declan being absolutely crushed. I am in complete awe of her ability to think outside of the box and produce something EVEN BETTER. I mean, is that even possible?
Diggers (that two-nager's newest obsession) AND Mickey. I love Target and shop at big box stores, but never in my wildest dreams would they care SO much about making my toddler so happy. When you shop with Brittney, it's not just about selling you moccs, but creating a work of art that you are going to adore and love...and last you through all those many adventures that your little is bound to take. The quality is simply perfect and you can tell she pours her heart and soul into every cut of leather, every stitch, and every pair of moccs that head out to their new stylish little. 
And last I heard, she dropped some brand new ROSE GOLD MOCCS..but you should probably just go check them out for yourself
here
;) Collection 2019 Sale 70% Off Title for image