Swim 2022 Faves
Posted by AMBER MARKER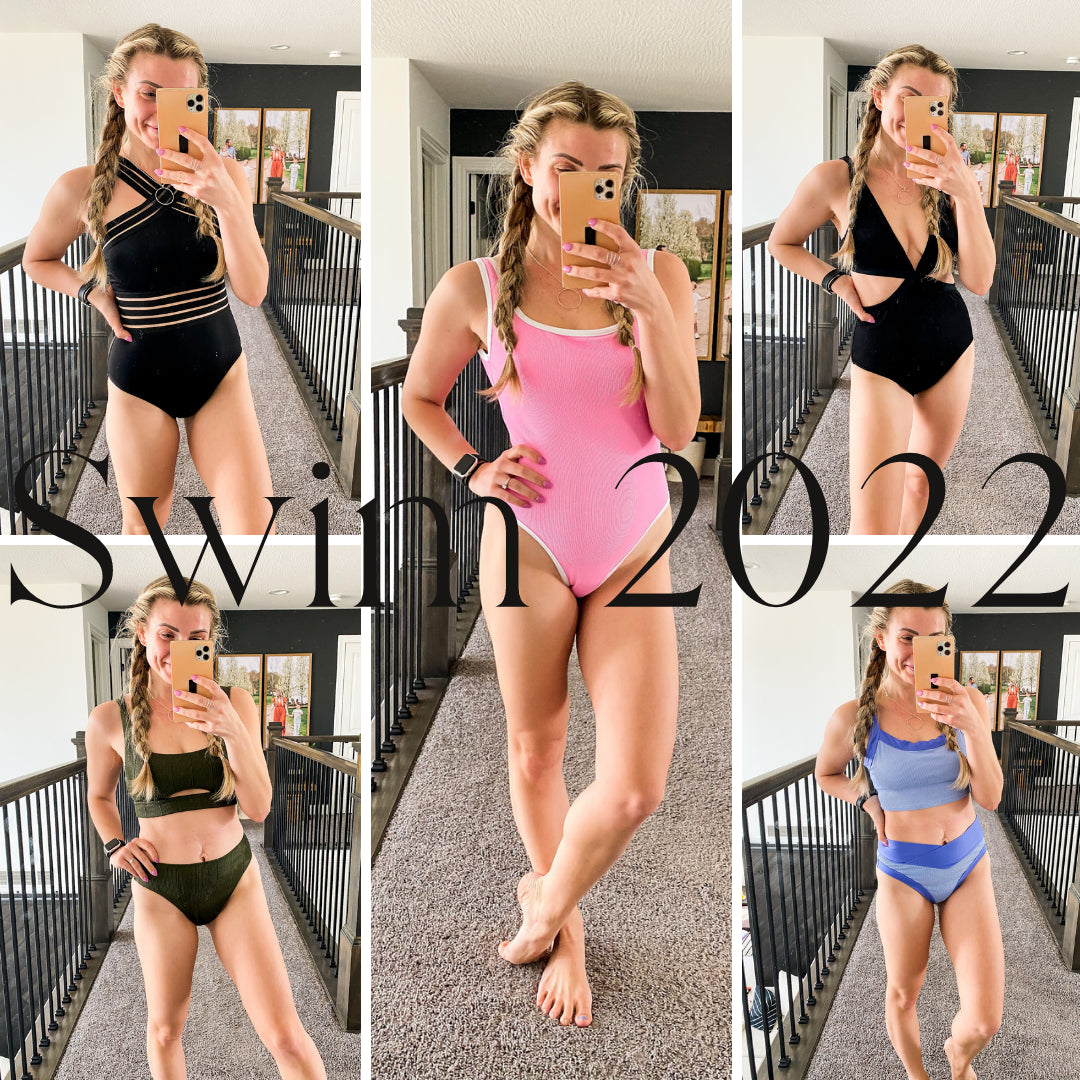 Swim season is *almost* here... and although I don't need anymore swimsuits... ya know your girl got some anyways and I am sharing some of my faves with you! 
AERIE has been crushing it lately in ALL departments. Here are a few that I am loving from there with all the deets on the fits.
LOVE the colors and ribbed material of these! The tone-on-tone vibe with the mix of blues is what drew my eye to these and they colors are SO pretty for warm weather! The top did fit a little "big" IMO, so not sure if this is one to size down on. The bottoms fit great, but this one does have a more "cheeky" fit with that high-waisted crossover vibe. There are more options for tops and bottoms with this vibe, too, so you can mix-and-match based on what you love! I am in a small in both pieces!
LOVE this set! The fabric is textured is SO good and the top is what drew me in. I LOVE the peek-a-boo vibe without being too scandalous on the front and back. Both pieces are true to size and I am in a small in both! There are a few color options and I loved this olive green hue. This one is high-waisted but has that cheeky vibe as well! 
This one is HANDS-DOWN my fave I got from Aerie. I LOVE it so much! One-piece, but has a little sass, which I love! The fabric is ribbed and the fit is true to size! A super chic, basic black swimsuit option! I am in a size small :) 
I splurged on this one! These sell out FAST and I was lucky to get my hands on one during launch time. The fit is SO GOOD and truly makes me feel so confident! It has that retro vibe which I really love, and of course, I got the hot pink one because it screams #summervibes. I am in the small and it hugs in all the right places. SCORE!
I saw this one at Target and the color totally caught my eye! OBSESSED with this electric purple and the fit is so cute and flattering. It is considered a junior's fit, so I do suggest sizing up in this one. I am in a small, but may exchange for the medium.
An Amazon find... and sometimes you don't know what you're going to get when it comes to swimwear from Amazon, but this one is a major score! Love the fit and quality, and they do have a few color options! I am in a small in this one and it's less than $30! 
Okay, if you end up wanting to order ONE of these options I am sharing... THIS IS IT! I cannot recommend this one ENOUGH. It is seriously PERFECT in every way and it's taking all I have not to order it in every color they offer. The perfect coverage for a day at the pool with the kids, but I love the mesh accents on the mid-section and neck area. SO chic and a total #musthave... and it's less that $30. GO GET THIS ONE! I am in the size small and it's very true to size. Collection 2019 Sale 70% Off Title for image