FROM PLAY DATES TO DINNER DATES...WAYS TO STYLE THAT GRAPHIC TEE
Posted by AMBER MARKER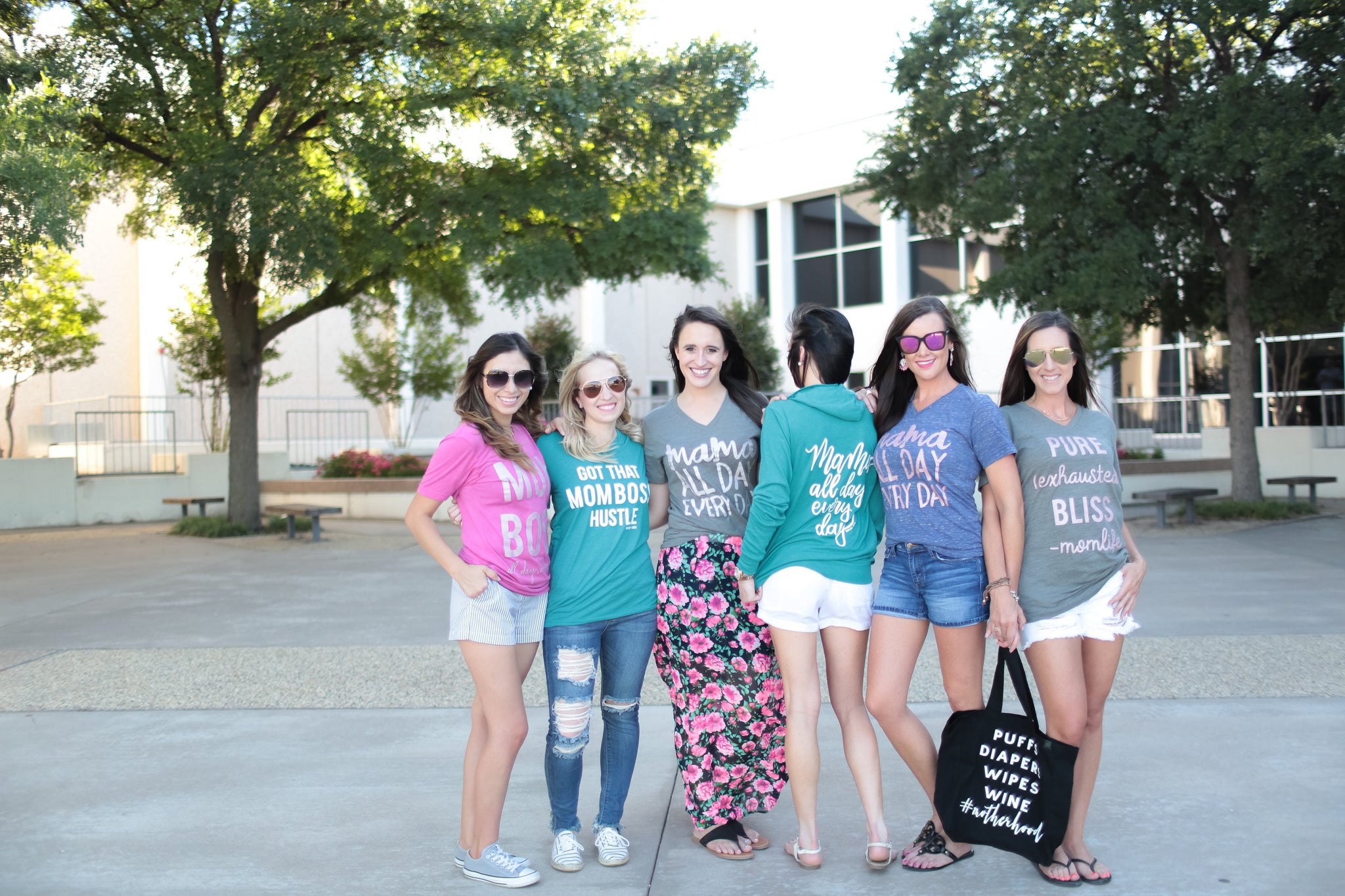 Graphic tees are all the rage right now and we totally love it. I mean, comfy AND chic?! HOLLA! I admit, I used to associate a tee as something I wore with yoga pants, but did you know that it is SO MUCH MORE? Take a peek below to see our fave ways to rock that tee.
THROW ON A PAIR OF FUN SHORTS OR PANTS. Fun, coordinating prints make your outfit POP! 
WE CONSIDER LEOPARD PRINT TO BE A NEUTRAL...and YES, that look is definitely MOM BOSS STATUS. Do a little side tie and finish it off with some statement earrings and some bangles to dress up any graphic tee. 
DISTRESSED bottoms for the WIN. Shorts or jeans always pair PERFECTLY with simple tees. We LOVE front-tucking or tucking in tees to give them a more "I am kinda put-together" vibe. Pair with your fave sunnies and you are ready to tackle all the adventures of #motherhood that day.
Have some FUN SHOES?! Rock them and make them the focal point with that cute tee of yours. We are kinda obsessing over these fringed gladiators.
MIX IT UP! Don't be afraid to mix in patterns and of course, FLORAL. All the floral.
We are totally swoooooning over this look. Pair your tee with a flowy maxi-skirt and fedora for an ultra-feminine look. We can't get enough.
Did we already mention flowy maxi-skirts and fedoras? Oh wait, we love it so much we had to mention it AGAIN. Switch it up by knotting your tee in the back or on the side rather than tucking it in. 
BECAUSE, LEGGINGS. Alright, alright. I wear them like 6/7 days, but can you argue with me?! We are LOVING the mesh cut-outs on these paired with some floral reflective sunnies to spice it up a bit. 
My FAVE way to accessorize my graphic tee..a cocktail. Haha, just kidding, but really...for those days when mommin' gets the best of ya. 
Which is your FAVE?! Tell me in the comments! And of course, you can snag all of these tees right here on our site! Collection 2019 Sale 70% Off Title for image